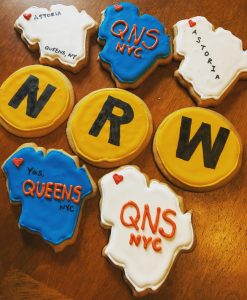 Bench Flour Bakers was built by pastry chef Christine Yen on her 4 A.M. commutes on the subway from Queens to Manhattan. On her way to open someone else's bakery, she'd jot down notes and menu ideas that would eventually take shape into her own baking company. From early childhood memories of helping her grandmother cook traditional Chinese dishes in their tiny kitchen to learning classic French pastry from renowned chefs in NYC's top kitchens, each lasting memory has been, and continues to be, included in Bench Flour's seasonal menus.
Our food philosophy is simple and honest, just like the food we make. All-natural. Fresh. Seasonal. We use local and organic produce whenever possible. Our hope is to connect with local New York farms to utilize locally-milled, organic flour and the best fruits and veggies that we can, from the best sources.
Bench Flour Bakers is a small, but mighty baking company hoping to integrate delicious, wholesome treats into the vibrant and exciting Queens community, and beyond. Simply put, we make baked goods with the best ingredients, and we hope they make your day just a little brighter.